Avaya Reports Fourth Quarter and Fiscal 2021 Financial Results, Provides Fiscal 2023 and Fiscal 2024 Targets
Q4 revenues of $760 million; FY21 revenue $2.973 billion - an increase of 3.5% year over year
Avaya OneCloud™ ARR for Q4 increased 177% year over year to $530 million
Cloud, Alliance Partner and Subscription revenue was a record 44% for Q4 and 40% for FY21
Signed 119 deals with TCV greater than $1 million, 18 over $5 million and 7 over $10 million in Q4
Raleigh-Durham, NC, - November 22, 2021 - Avaya Holdings Corp. (NYSE: AVYA) today reported financial results for the fourth quarter of fiscal 2021 ended September 30, 2021.
Financial Highlights
Q4 Revenues of $760 million and fiscal 2021 revenues of $2.973 billion. Fiscal 2021 revenue includes an adjustment of approximately $15 million for the cumulative effect of an understatement of revenue in prior periods(1)
OneCloud ARR (Annualized Recurring Revenue) was $530 million, up 25% sequentially and 177% from a year ago
CAPS (Cloud, Alliance Partner and Subscription) was 44% of revenue, up from 33% a year ago; and 40% for fiscal 2021
For fiscal 2021, software and services were 88% of revenue, flat year over year
Recurring revenue was 66% for fiscal 2021, up from 63% a year ago
GAAP Operating income was $33 million and Non-GAAP Operating income was $145 million; for fiscal 2021 GAAP Operating income was $180 million and Non-GAAP Operating income was $602 million
GAAP Net income was $6 million and Non-GAAP Net income was $74 million; for fiscal 2021 GAAP Net loss was $13 million and Non-GAAP Net income was $304 million
Adjusted EBITDA was $179 million, 23.6% of revenue, down 290 basis points year over year; for fiscal 2021 Adjusted EBITDA was $719 million, 24.2% of revenue
GAAP Earnings Per Share of $0.06 and Non-GAAP Earnings Per Share of $0.77; for fiscal 2021 GAAP Loss Per Share was $0.20 and Non-GAAP Earnings Per Share was $3.16
Ending cash and cash equivalents were $498 million
"Fiscal year 2021 for Avaya was a year marked by many firsts, and the outstanding results we delivered exceeded expectations on most every front. Most impressive is the fact that we reversed over a decade of annual revenue declines, delivering year over year growth closing up approximately $100 million, while we also grew ARR 177% to $530 million," said Jim Chirico, President and CEO of Avaya. "This year marked a real and substantive milestone for the company and I couldn't be prouder of the performance or more thankful for the commitment of our customers and partners and performance of our global team as we've navigated a purposeful and deliberate journey of transformation to be an enterprise cloud leader."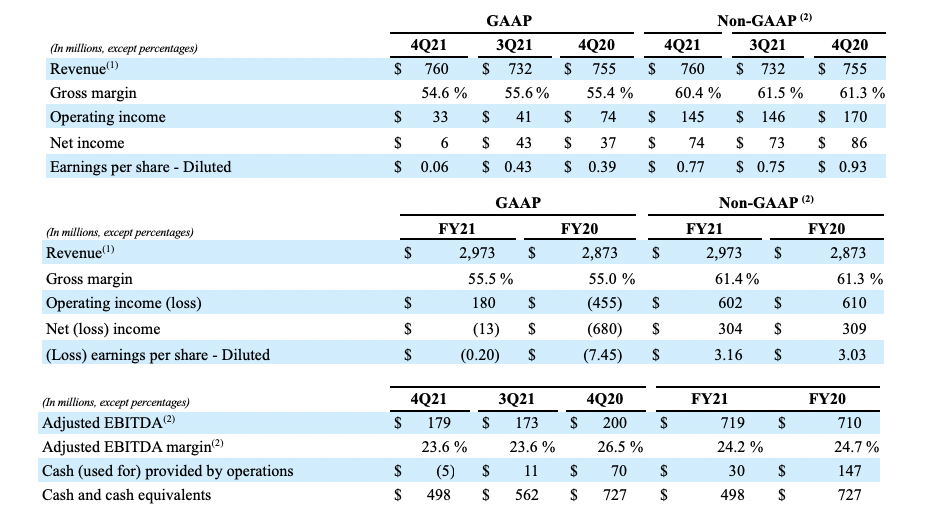 Additional Fourth Quarter Fiscal 2021 Highlights
Total Contract Value ("TCV") of $2.0B*
Added approximately 1,600 new logos
Significant large deal activity with 119 deals over $1 million TCV, 18 over $5 million TCV and 7 over $10 million TCV
~20% of OneCloud ARR came from customers generating $5 million or more in annual recurring revenue
~60% of OneCloud ARR came from customers generating $1 million or more in annual recurring revenue
~95% of OneCloud ARR came from customers generating $100K or more in annual recurring revenue
~60% of OneCloud ARR came from Contact Center customers
(1)During fiscal 2021, the Company identified an understatement of revenue by $3 million and $5 million in the Consolidated Statements of Operations for fiscal 2020 and 2019, respectively, and in an understatement of the opening Retained earnings adjustment recorded upon adoption of Accounting Standards Update No. 2014-09, "Revenue from Contracts with Customers" by $7 million. The Company concluded that the impacts were not material to the current period or any prior period financial statements. As a result, the cumulative effect of the understatement was recorded during fiscal 2021, resulting in an increase to Revenue and Provision for income taxes and a decrease to Net loss of $15 million, $2 million, and $13 million, respectively, predominantly within the Products and Solutions operating segment.
(2)Non-GAAP gross margin, Non-GAAP operating margin (used below), Non-GAAP operating income, Non-GAAP net income, Non-GAAP earnings per share, adjusted EBITDA, adjusted EBITDA margin and constant currency are not measures calculated in accordance with generally accepted accounting principles in the U.S. ("GAAP"). Refer to the "Use of non-GAAP (Adjusted) Financial Measures" below and the Supplemental Financial Information accompanying this press release for more information on the calculation of constant currency and a reconciliation of these non-GAAP measures to the most closely comparable measure calculated in accordance with GAAP.
* We define TCV as the value of all active ratable contracts that have not been recognized as revenue, including both billed and unbilled backlog.
Customer Highlights
Florida's Leon County Government is benefiting from migrating to an Avaya Aura Subscription solution that brings Avaya Spaces™ collaboration and ease of growth/license management.
U.S. national rail operator Amtrak recently chose an Avaya OneCloud Public solution for workforce engagement to deliver advanced quality monitoring and biometrics that will reduce losses from fraud by ~50% and drive up customer satisfaction through a deeper understanding of each interaction. In a competitive bid for the three-year contract supporting hundreds of Amtrak agents and supervisors, our ability to fully understand the customer's needs and deliver full-cloud capabilities immediately was key to being chosen ahead of the incumbent provider as well as multiple other competitors.
Finanz Informatik, the central service provider for savings banks in Germany, relies on an Avaya OneCloud Private UCaaS platform to deliver data center, applications, networks and related IT services to 300 savings banks, with 221,000 seats and 2 million calls per day. A new service contract is structured to deliver best-in-class service today and in the future, including Avaya Professional Services and Avaya Service Management and Maintenance.
In India, global outsourcer Wipro BPM chose Avaya OneCloud Subscription as the next step on the digital transformation journey for their contact center due to ease of expansion, flexible migration as part of their cloud and automation plans, and based on Avaya's many years of consistent service levels, including operations across 40+ ODC's globally. Wipro's approximately 3,500 agents can continue to deliver exceptional experiences to customers who are increasingly consuming all-digital services, with a full solution suite which includes multiple ecosystem components from our API Exchange hub marketplace.
Transcosmos, a Japan-based global BPO, is composing effortless customer experiences, reducing wait times, and improving efficiencies and all-around satisfaction through the partnership of Avaya OneCloud CCaaS and Google Cloud Contact Center AI. This solution will drive productivity through intuitive and natural conversation interactions across any touchpoint with no agent intervention, and by providing sentiment analysis and contextual insights to agents during live conversations.
MAHLE, a global automotive supplier with over 70,000 employees and 160 production locations, was struggling with inconsistent customer and employee experiences from their 19 disparate voice vendors. An Avaya OneCloud Private Cloud solution with Unified Communications now integrates with Microsoft Teams, providing MAHLE with a single partner and contract, a homogenous feature set, and SLA for all locations, as they also enjoy investment protection and reduced administration costs.
Waste management, processing and recycling company Van Happen Containers in the Netherlands is leaving its on-premise model for a cloud strategy based on Avaya OneCloud CCaaS and Avaya Cloud Office. They will benefit from reliability, greatly reduced on-site systems maintenance, and platform integrations, along with the ability to connect and expand online services such as chat functionalities through Whatsapp and Facebook, all integrated with its CRM. Staff can communicate and collaborate across locations, in real time, with Avaya Cloud Office while agents serve customers via CCaaS applications for inquiries, scheduling drop-off and pick-up of trash and containers through customer selected contact channels.
Preferred Home Care of New York receives thousands of calls per day. Their complicated and outdated phone system suffered from persistent outages that left patients at risk, staff stranded and agents at a standstill. Avaya Cloud Office by RingCentral provides a single, easy-to-administer collaboration platform across their locations for a reliable, consistent experience for patients, caregivers and employees. Their teams can even create call flows and queues to support the unique needs of different users.
The Infoline subsidiary of OmanTel, the leading SP in the Sultanate of Oman, is one of the fastest-growing BPOs in the Middle East. Infoline decided to shift from a competitor's on-premise solution to Avaya OneCloud CCaaS to meet projected market growth and to help them enhance customer, client, and employee experiences. With this public cloud solution, the BPO can deliver meaningful experiences for end customers via voice, web chat or email, supported by intelligent routing and composable workspaces that bring customer information from different applications into a single pane of glass.
Business Highlights
Avaya was recognized as one of the Forbes 2021 "World's Best Employers," receiving this coveted distinction for the second consecutive year.
Avaya and Microsoft announced a strategic relationship to create a powerful set of joint cloud communications solutions to define the future of customer and employee experiences. The joint solutions include the award-winning Avaya OneCloud CPaaS solution, now integrated with the voice, video, chat and SMS capabilities of Microsoft Azure Communication Services for combined global reach, scale and functionality.
Avaya and Microsoft have also strengthened the integration of Avaya OneCloud CCaaS and Microsoft Azure to support:

The globally expanding availability of Avaya OneCloud CCaaS hosted in Azure
Avaya OneCloud CCaaS natively integrated with Microsoft Teams via the Microsoft Teams Connected Contact Center Certification Program
Avaya OneCloud CCaaS integration with Microsoft Dynamics 365
Avaya Session Border Controller is also now certified for Microsoft Teams Direct Routing and Media Bypass, all designed to complement Avaya's OneCloud CCaaS solutions
Avaya Spaces made a significant leap to the Visionary quadrant in the Gartner Magic Quadrant for Meeting Solutions in 2021, and did so in less than two years of availability in the market. According to Gartner, "Meeting solutions blend communications, collaboration and content sharing to enable virtual meeting scenarios to satisfy a variety of use cases. By 2024, the virtual visual campus will become the center of 30% of meeting experiences, up from 5% today, as focus shifts to enabling collaboration equity to drive interactive and dynamic engagement." In a landscape that was largely unchanged from 2020, Avaya was one of only two vendors to see a quadrant leap in the MQ. This is an unprecedented accomplishment for Avaya and a clear validation of the company's strategy, completeness of vision, and ability to execute.
Avaya Experience Builders™ was launched, as a global ecosystem of Avaya services, partners and developers focused on helping organizations build better experiences for employees and customers, wherever and whenever communications and collaboration happen. The needs of customers have changed dramatically, and this ecosystem is uniquely positioned to deliver next-generation customer and employee experiences through the Avaya OneCloud AI-powered experience platform.
Avaya was recognized by Metrigy as a MetriStar Top Provider for Workforce Optimization (WFO) Platform and with a MetriStar Top Customer Sentiment award for Avaya OneCloud™ UCaaS. Avaya was singled out based on its achievements in delivering innovation for customer engagement, and helping organizations achieve business goals, revenue objectives and efficiencies.
Avaya earned Frost & Sullivan's Competitive Strategy Leadership Award for Avaya OneCloud CPaaS. According to the report, Avaya stands out in the CPaaS marketplace in important ways, particularly when compared to transactional CPaaS providers. This includes an enterprise focus that understands the unique challenges of vertical industries and integrating with critical business applications rather than overlaying another solution or service on a customer's existing applications.
Avaya was recognized with two UC Today 2021 Awards: Best Use of AI for the Avaya Spaces workstream collaboration solution; and Best CPaaS Solution for Avaya OneCloud CPaaS.
Avaya released its annual Corporate Responsibility Report, highlighting the progress made regarding prioritized environmental, social and governance initiatives, including climate, diversity, and cybersecurity and data privacy. The report showcases the policies and programs that drive the company's commitment to creating value and making a positive and lasting impact for its stakeholders, reducing its impact on the environment, offering a safe and inclusive workplace for all employees and giving back to the communities where Avayans live and work.
CRN®, a brand of The Channel Company, named Hope Davó, Avaya National Partner Manager, to its 2021 list of Rising Female Stars. This list honors up-and-coming, talented women in the IT channel whose contributions are shaping the future of the channel through their leadership, tireless dedication and innovative ideas. Selected by the CRN editorial team, the second annual Rising Female Stars list is made up of exceptional channel leadership candidates. Honorees are selected for their unique experience, expertise, impact on their partners and dedication to the IT channel.
Financial Outlook - 1Q Fiscal 2022 - unless otherwise noted, values reflect October 31, 2021 FX rates.
Revenue of $725 million to $745 million
GAAP operating income of $33 million to $48 million; GAAP operating margin of 5% to 6%
Non-GAAP operating income of $131 million to $146 million; non-GAAP operating margin of ~18% to 20%
Adjusted EBITDA of $160 million to $175 million; Adjusted EBITDA margin of ~23%
Non-GAAP EPS of $0.63 to $0.75
Financial Outlook - Fiscal Year 2022 - unless otherwise noted, values reflect October 31, 2021 FX rates.
Revenue of $2.975 billion to $3.025 billion
OneCloud ARR expected to be $880 million to $910 million by year end FY22
CAPS revenue will represent between 45% and 50% of Avaya's total revenue for FY22
GAAP operating income of $193 million to $213 million; GAAP operating margin of ~7%
Non-GAAP operating income of $577 million to $597 million; non-GAAP operating margin of ~19% to 20%
Adjusted EBITDA of $700 million to $720 million; Adjusted EBITDA margin of ~24%
Non-GAAP EPS of $2.85 to $3.03
Cash flow from operations expected to be approximately 1% of revenue, as an outcome of the company's accelerated success in moving to a recurring revenue model which is resulting in higher working capital requirements
Approximately 88 million to 90 million diluted weighted average shares outstanding
Financial Outlook - Fiscal Year 2023 and 2024 - unless otherwise noted, values reflect October 31, 2021 FX rates. We are targeting:
Revenue growth in the low to mid-single digit percent range year-over-year in fiscal 2023 and in the mid- to high-single digit percent range year-over-year in fiscal 2024
OneCloud ARR of $2 billion at end of fiscal 2024
Adjusted EBITDA margin of 23% to 24%
Cash flow from operations in the mid- to high-single digit percent of revenue for fiscal 2023, and low-double digit percent of revenue for fiscal 2024
The company has not quantitatively reconciled its guidance for adjusted EBITDA, non-GAAP Operating income, or non-GAAP EPS to their respective most comparable GAAP measure because certain of the reconciling items that impact these metrics including, provision for income taxes, restructuring charges, net of sublease income, advisory fees, acquisition-related costs and change in fair value of warrants affecting the period, have not occurred, are out of the company's control, or cannot be reasonably predicted. Accordingly, reconciliations to the nearest GAAP financial measures are not available without unreasonable effort. Please note that the unavailable reconciling items could significantly impact the company's results as reported under GAAP.
As Avaya's CAPS metric reflects revenue that is already recognized, management believes it would be helpful to provide investors with a better view into the performance of the company's broader-based OneCloud software solutions that are driving the company's recurring revenue growth by also providing a forward-looking metric, Annualized Recurring Revenue, or OneCloud ARR.
OneCloud ARR represents our estimate of the annualized revenue run-rate of certain components from active term OneCloud contracts (whether or not terminable) at the end of the reporting period. More specifically, OneCloud ARR includes OneCloud subscription revenue, ACO recurring revenue and revenue from CCaaS, Spaces, CPaaS, DaaS and private cloud, and excludes maintenance, managed services revenue and ACO one-time payments. The One Cloud ARR metric, combined with the company's CAPS metric, provides investors enhanced visibility into Avaya's transformational Cloud journey. Per period OneCloud ARR figures are provided in the slides published on Avaya's website at http://www.avaya.com on the Investor Relations page.
Avaya's outlook does not include the potential impact of any business combinations, asset acquisitions, divestitures, strategic investments, or other significant transactions that may be completed after the date hereof. Actual results may differ materially from Avaya's outlook as a result of, among other things, the factors described under "Forward-Looking Statements" below.
Conference Call and Webcast
Avaya will host a live webcast and conference call to discuss its financial results at 8:30 AM Eastern Time on November 22, 2021. To access the live conference call by phone, listeners should dial +1-877-858-7671 in the U.S. or Canada and +1-201-389-0939 for international callers. To join the live webcast, listeners should access the investor page of Avaya's website at https://investors.avaya.com.
Following the live webcast, a replay will be available on the investor page of Avaya's website for a period of one year. A replay of the conference call will be available for one week soon after the call by phone by dialing +1-877-660-6853 in the U.S. or Canada and +1-201-612-7415 for international callers, using the conference access code: 13724532.
About Avaya
Businesses are built by the experiences they provide, and everyday millions of those experiences are delivered by Avaya Holdings Corp. (NYSE: AVYA). Avaya is shaping what's next for the future of work, with innovation and partnerships that deliver game-changing business benefits. Our cloud communications solutions and multi-cloud application ecosystem power personalized, intelligent, and effortless customer and employee experiences to help achieve strategic ambitions and desired outcomes. Together, we are committed to help grow your business by delivering Experiences that Matter. Learn more at http://www.avaya.com.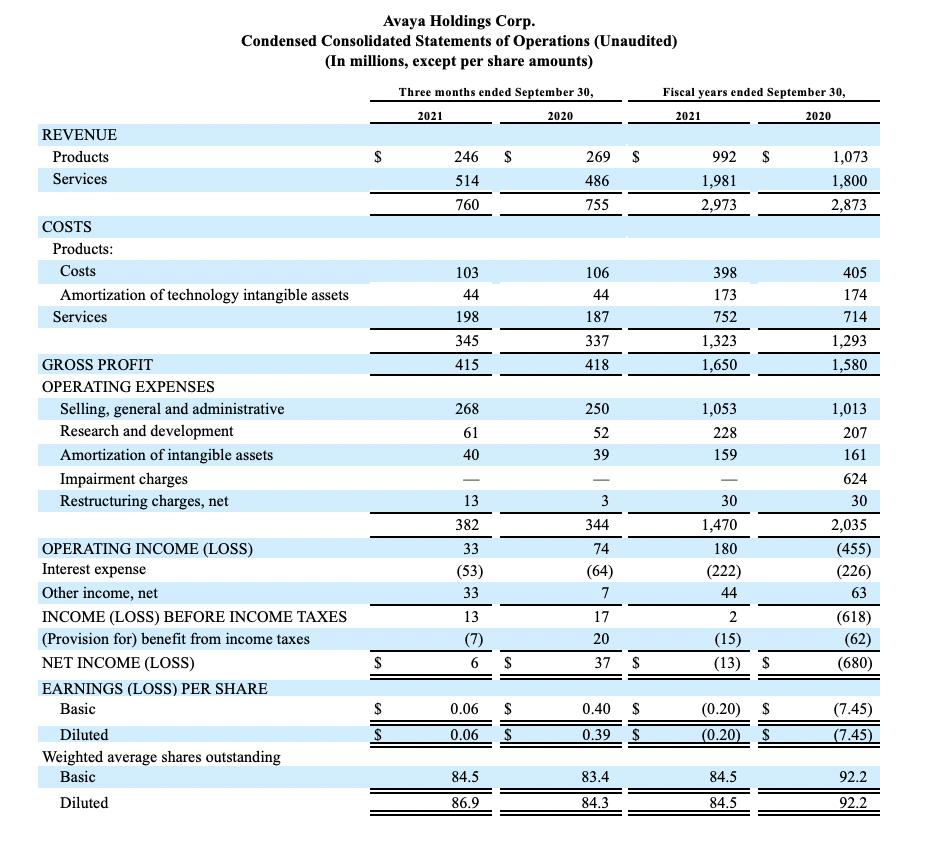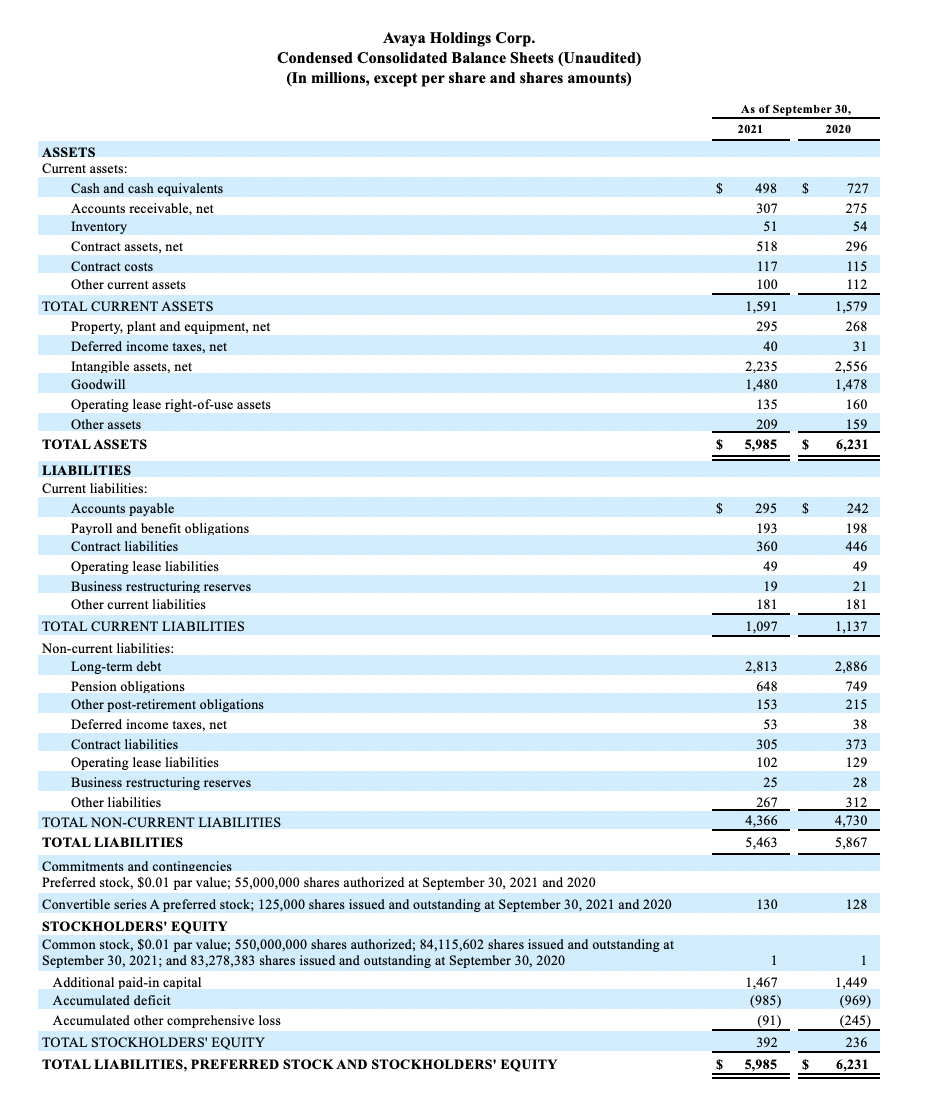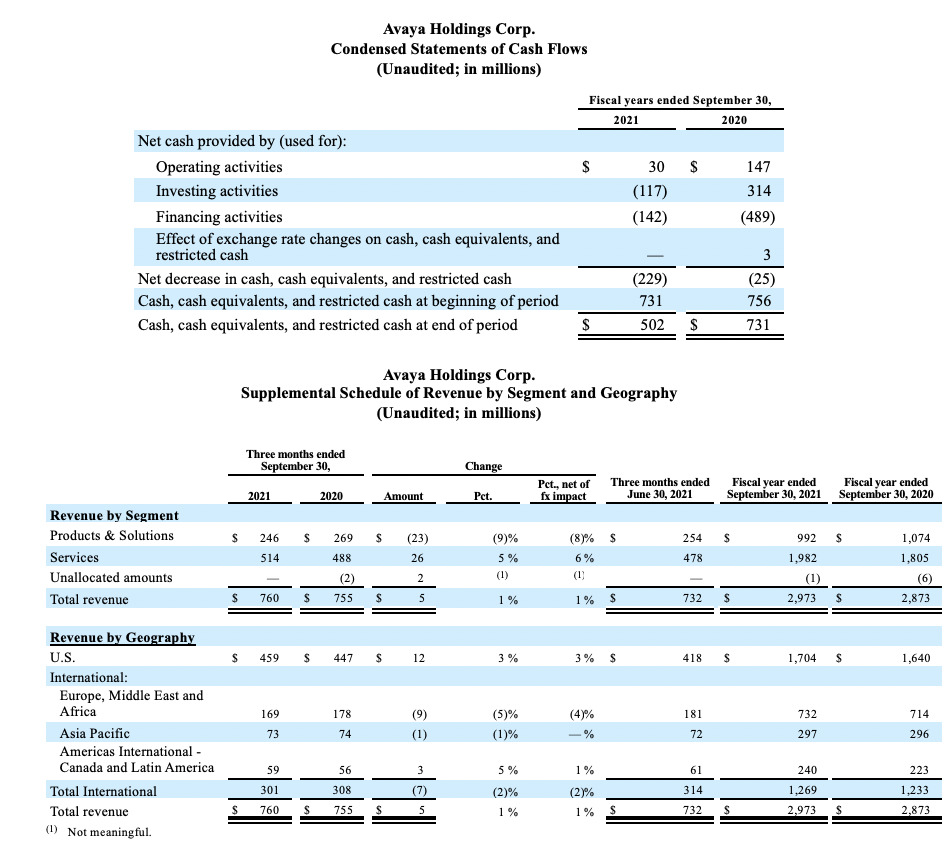 Use of non-GAAP (Adjusted) Financial Measures
The information furnished in this release includes non-GAAP financial measures that differ from measures calculated in accordance with generally accepted accounting principles in the United States of America ("GAAP"), including financial measures labeled as "non-GAAP" or "adjusted."
EBITDA is defined as net income (loss) before income taxes, interest expense, interest income and depreciation and amortization. Adjusted EBITDA is EBITDA further adjusted to exclude certain charges and other adjustments described in our SEC filings and the tables below.
We believe that including supplementary information concerning adjusted EBITDA is appropriate because it serves as a basis for determining management and employee compensation and it is used as a basis for calculating covenants in our credit agreements. In addition, we believe adjusted EBITDA provides more comparability between our historical results and results that reflect purchase accounting and our current capital structure. We also present adjusted EBITDA because we believe analysts and investors utilize these measures in analyzing our results. Adjusted EBITDA measures our financial performance based on operational factors that management can impact in the short-term, such as our pricing strategies, volume, costs and expenses of the organization, and it presents our financial performance in a way that can be more easily compared to prior quarters or fiscal years.
EBITDA and adjusted EBITDA have limitations as analytical tools. EBITDA measures do not represent net income (loss) or cash flow from operations as those terms are defined by GAAP and do not necessarily indicate whether cash flows will be sufficient to fund cash needs. Adjusted EBITDA excludes the impact of earnings or charges resulting from matters that we do not consider indicative of our ongoing operations but that still affect our net income. In particular, our formulation of adjusted EBITDA allows adjustment for certain amounts that are included in calculating net income (loss), however, these are expenses that may recur, may vary and are difficult to predict. In addition, these terms are not necessarily comparable to other similarly titled captions of other companies due to the potential inconsistencies in the method of calculation.
We also present the measures non-GAAP gross margin, non-GAAP operating income, non-GAAP operating margin, non-GAAP net income and non-GAAP earnings per share as a supplement to our unaudited condensed consolidated financial statements presented in accordance with GAAP. We believe these non-GAAP measures are the most meaningful for period to period comparisons because they exclude the impact of the earnings and charges noted in the applicable tables below that resulted from matters that we consider not to be indicative of our ongoing operations.
The company presents constant currency information to provide a framework to assess how the company's underlying businesses performance excluding the effect of foreign currency rate fluctuations. To present this information for current and comparative prior period results for entities reporting in currencies other than U.S. dollars, the amounts are converted into U.S. dollars at the exchange rate in effect on the last day of the company's prior fiscal year (i.e. September 30, 2020).
In addition, we present the liquidity measures of free cash flow. Free cash flow is calculated by subtracting capital expenditures from Net cash provided by operating activities. We believe free cash flow is a measure often used by analysts and investors to compare the cash flow and liquidity of companies in the same industry.
The presentation of these non-GAAP financial measures is not intended to be considered in isolation from, as substitute for, or superior to, the financial information prepared and presented in accordance with GAAP and may be different from the non-GAAP financial measures used by other companies. In addition, these non-GAAP measures have limitations in that they do not reflect all of the amounts associated with the Company's results of operations as determined in accordance with GAAP.
We do not provide a forward-looking reconciliation of expected first quarter and full year fiscal 2022 non-GAAP gross margin, non-GAAP operating expenses, non-GAAP operating income, non-GAAP operating margin, non-GAAP earnings per share or adjusted EBITDA guidance as the amount and significance of special items required to develop meaningful comparable GAAP financial measures cannot be estimated at this time without unreasonable efforts. These special items could be meaningful.
The following tables reconcile historical GAAP measures to non-GAAP measures.