Revenue from Software and Services was a record of 88% of $682 million in revenue
Recurring revenue was 64% of revenue - up 5 points sequentially
Cloud, Alliance Partner & Subscription revenue increased 5 points sequentially to 23% of revenue
Avaya Cloud Office launched March 31st
Deployed over 2 million work from home licenses in just two months
Santa Clara, Calif., - May 11, 2020 - Avaya Holdings Corp. (NYSE: AVYA) today reported financial results for the second quarter ended March 31, 2020.
Second Quarter Financial Highlights
Revenues of $682 million
GAAP Operating loss was $597 million; Non-GAAP Operating income was $125 million
Net loss was $672 million, which includes a non-cash goodwill impairment charge of $624 million
Adjusted EBITDA was $149 million
79 deals signed with a TCV of over $1 million
Repurchased an additional $198 million of common stock in the quarter. As a result, we have repurchased a total of 28.9 million shares since program inception, achieving our FY20 target
Ending cash and cash equivalents were $553 million
"Avaya delivered a strong second quarter on multiple fronts and I couldn't be prouder of how the company has executed in the face of the global COVID-19 crisis," stated Jim Chirico, President and CEO, of Avaya. "The last several weeks have driven home the importance of communication and collaboration technology for all of us and especially the need for modernization of existing investments and infrastructure. Demand for video collaboration, with our Spaces solution, contact center upgrades to include remote work from anywhere capabilities, and the need for flexible consumption models like our cloud and subscription offers has accelerated, and no other company operates with the scale or reach that Avaya does. Our results underscore the mission critical nature of the solutions we provide, the value we deliver, and the partnership we have with our global base of customers."
Mr. Chirico added, "The company has improved on all key strategic metrics as we continue the deliberate move to a SaaS and Cloud model. Recurring revenue was 64%, up five points sequentially and year over year, our CAPS revenue increased to 23% from 18% in the prior quarter, and software and services as a percent of revenue was 88% - all new highs for the company. The continued mix shift of our revenue reflects that the vision and strategy we laid out is taking hold and that our transformation to a software, SaaS, and Cloud focused company is irreversible."

During the quarter, Avaya recorded a non-cash goodwill impairment charge of $624 million related to the company's Products & Solutions segment. The charge was prompted by a sustained decline in the company's stock price during the period, which was consistent with the way the broader market was affected by COVID-19's impact on the global economy.
Additional Key Performance Metrics
​Total Contract Value (TCV) of $2.3B*
88% of revenue was Software & Services
64% of revenue was Recurring
Added approximately 1,200 new logos
Large deal activity with 79 deals over $1 million, 12 over $5 million, and 3 over $10 million
Our Spaces video and collaboration usage grew 2,100% as we delivered nearly 400,000 new licenses this quarter
Subscription revenue grew ~200% quarter over quarter
We deployed over 2 million complementary licenses to support customer needs for business continuity and work from home
(1) Non-GAAP revenue, Non-GAAP gross margin, Non-GAAP operating margin, Non-GAAP operating income, adjusted EBITDA, and constant currency are not measures calculated in accordance with generally accepted accounting principles in the U.S. ("GAAP"). Adjusted EBITDA margin is calculated based on non-GAAP Revenue. Refer to the "Use of non-GAAP (Adjusted) Financial Measures" below for more information on the calculation of constant currency. Refer to the Supplemental Financial Information accompanying this press release for more information, including a reconciliation of these measures to the most closely comparable measure calculated in accordance with GAAP. Unless otherwise noted, all references in this release to revenue are to GAAP revenue.
* We define TCV as the value of all active ratable contracts that have not been recognized as revenue, including both billed and unbilled backlog.
Business Highlights
Avaya launched our highly anticipated Avaya Cloud Office™ on March 31st. Avaya Cloud Office is the company's UCaaS offering which enhances the way organizations communicate with customers, partners and colleagues across multiple channels.
Avaya Spaces video and collaboration solution has become a significant differentiator and market disruptor. With the rapid onset of requirements to work from home as a result of the COVID-19 pandemic, usage of Spaces increased 2,100% in the March quarter. This CPaaS-based technology is a cloud meeting and team collaboration app that effortlessly integrates voice, video, tasks, sharing and more into one app that can be accessed from any endpoint device.
Avaya was named a 2020 Channel Influencer Award winner by leading technology media Channel Partners and Channel Futures. The Avaya Edge Partner Program is a comprehensive approach that simplifies, integrates, and aligns with channel partner needs to help drive growth and introduce additional business opportunities.
Avaya was named by Nuance as both Top Producing Channel Partner and Top Growth Partner for AI-powered Solutions that Enable Customers and Employees To Work Smarter Together. Avaya also received the Global Channels Partner of the Year award from Verint Systems for its ability to accelerate successful transitions to the cloud and provide multiexperience contact center and workforce engagement solutions to tens of thousands of customers worldwide.
Avaya won a Best of Enterprise Connect 2020 award - with Avaya Spaces earning recognition as Best Innovation for Meeting Rooms.
Hybrid cloud has been another differentiator for Avaya, enabling us to address the full range of cloud deployment models for our enterprise customers. Our Avaya OneCloud™ ReadyNow private cloud solution has been recognized with a Unified Communications Excellence Award by TMC, for delivering UC and CC solutions in a secure private cloud environment.
Avaya achieved Top Leader ratings from two investment firms, State Street Global Advisors ("State Street") and Institutional Shareholder Services ("ISS"), for its Environmental, Social and Corporate Governance (ESG). These assessments provide insight into Avaya's ESG leadership performance. State Street awarded us their rating based on how we incorporate material sustainability issues into our long-term strategy, coupled with the way we address what is material to Avaya's business and publicly report on ESG performance. ISS describes the Prime rating it gave to Avaya as one that is "awarded to companies with an ESG performance above the sector-specific Prime threshold, which means that they fulfill ambitious absolute performance requirements".
Financial Outlook - 3Q Fiscal 2020 - unless otherwise noted, values reflect March 31st, 2020 FX rates.
GAAP revenue of $674 million to $704 million; Non-GAAP revenue of $675 million to $705 million

This non-GAAP revenue figure reflects a constant currency decline of 5% to 1%

GAAP operating income of $23 million to $43 million; GAAP operating margin of ~3% to 6%
Non-GAAP operating income of $126 million to $146 million; non-GAAP operating margin of ~19% to 21%
Adjusted EBITDA of $150 million to $170 million; Adjusted EBITDA margin of ~22% to 24%
The company has not quantitatively reconciled its guidance for adjusted EBITDA to its most comparable GAAP measure because certain of the reconciling items that impact adjusted EBITDA, including, provision for income taxes, restructuring charges, net of sublease income, advisory fees, acquisition-related costs, change in fair value of warrants and gain (loss) on marketable securities affecting the period, have not occurred, are out of the company's control, or cannot be reasonably predicted. Accordingly, reconciliations to the nearest GAAP financial measures are not available without unreasonable effort. Please note that the unavailable reconciling items could significantly impact the company's results.
Financial Outlook - Fiscal Year 2020
In light of the uncertainties in the global business environment arising from the effects of COVID-19, the company is withdrawing its prior annual guidance for fiscal year 2020.
Conference Call and Webcast
Avaya will host a live webcast and conference call to discuss its financial results at 8:30 AM Eastern Time on May 11, 2020. To access the live conference call by phone, listeners should dial +1-877-858-7671 in the U.S. or Canada and +1-201-389-0939 for international callers. To join the live webcast, listeners should access the investor page of Avaya's website at investors.avaya.com.
Following the live webcast, a replay will be available on the investor page of Avaya's website for a period of one year. A replay of the conference call will be available for one week soon after the call by phone by dialing +1-877-660-6853 in the U.S. or Canada and +1-201-612-7415 for international callers, using the conference access code: 13702564.
About Avaya
Businesses are built on the experiences they provide, and every day millions of those experiences are built by Avaya (NYSE: AVYA). For over one hundred years, we've enabled organizations around the globe to win - by creating intelligent communications experiences for customers and employees. Avaya builds open, converged and innovative solutions to enhance and simplify communications and collaboration - in the cloud, on-premise or a hybrid of both. To grow your business, we're committed to innovation, partnership, and a relentless focus on what's next. We're the technology company you trust to help you deliver Experiences that Matter. Visit us at www.avaya.com.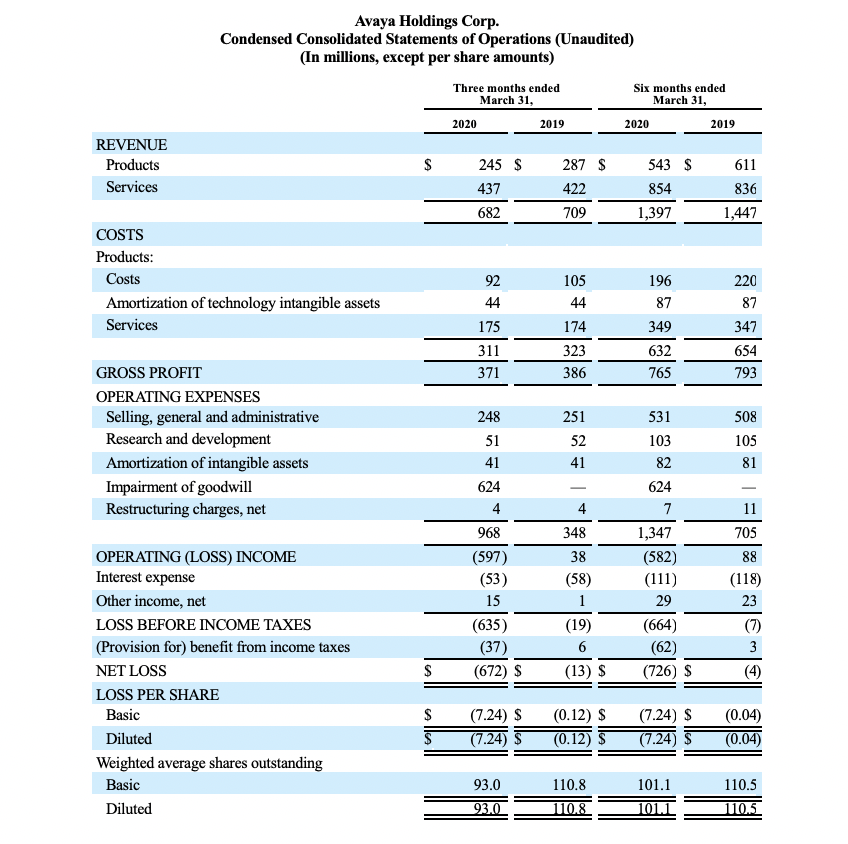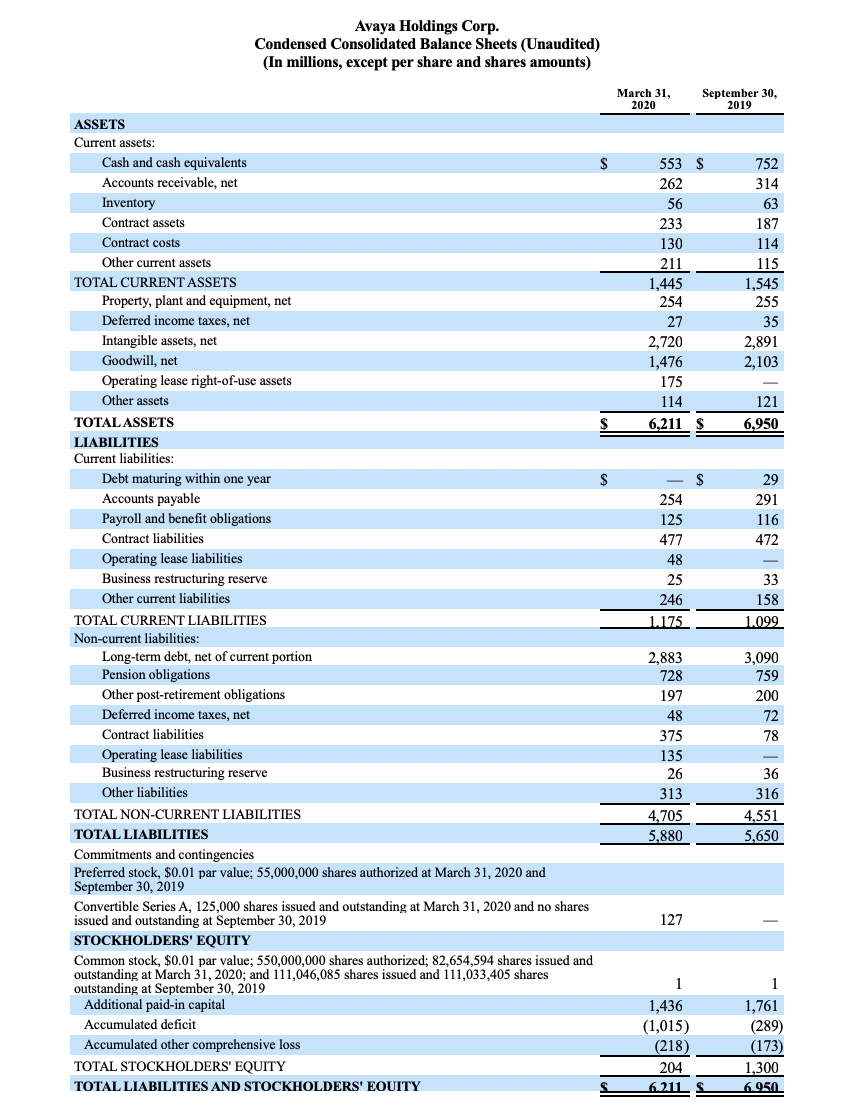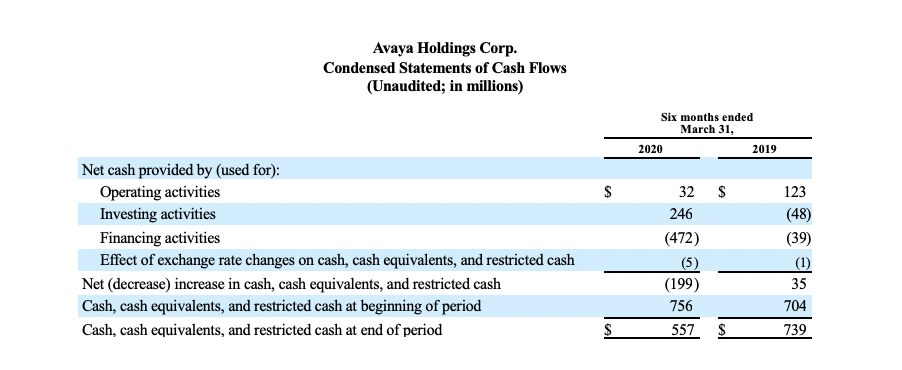 Use of non-GAAP (Adjusted) Financial Measures
The information furnished in this release includes non-GAAP financial measures that differ from measures calculated in accordance with generally accepted accounting principles in the United States of America ("GAAP"), including financial measures labeled as "non-GAAP" or "adjusted."
EBITDA is defined as net income (loss) before income taxes, interest expense, interest income and depreciation and amortization. Adjusted EBITDA is EBITDA further adjusted to exclude certain charges and other adjustments described in our SEC filings and the tables below.
We believe that including supplementary information concerning adjusted EBITDA is appropriate because it serves as a basis for determining management and employee compensation and it is used as a basis for calculating covenants in our credit agreements. In addition, we believe adjusted EBITDA provides more comparability between our historical results and results that reflect purchase accounting and our current capital structure. We also present adjusted EBITDA because we believe analysts and investors utilize these measures in analyzing our results. Adjusted EBITDA measures our financial performance based on operational factors that management can impact in the short-term, such as our pricing strategies, volume, costs and expenses of the organization, and it presents our financial performance in a way that can be more easily compared to prior quarters or fiscal years.
EBITDA and adjusted EBITDA have limitations as analytical tools. EBITDA measures do not represent net income (loss) or cash flow from operations as those terms are defined by GAAP and do not necessarily indicate whether cash flows will be sufficient to fund cash needs. Adjusted EBITDA excludes the impact of earnings or charges resulting from matters that we do not consider indicative of our ongoing operations but that still affect our net income. In particular, our formulation of adjusted EBITDA allows adjustment for certain amounts that are included in calculating net income (loss), however, these are expenses that may recur, may vary and are difficult to predict. In addition, these terms are not necessarily comparable to other similarly titled captions of other companies due to the potential inconsistencies in the method of calculation.
We also present the measures non-GAAP revenue, non-GAAP gross margin, non-GAAP operating income and non-GAAP operating margin as a supplement to our unaudited condensed consolidated financial statements presented in accordance with GAAP. We believe these non-GAAP measures are the most meaningful for period to period comparisons because they exclude the impact of the earnings and charges noted in the applicable tables below that resulted from matters that we consider not to be indicative of our ongoing operations.
The company presents constant currency information to provide a framework for assessing how the company's underlying businesses performance excluding the effect of foreign currency rate fluctuations. To present this information current and comparative prior period results for entities reporting in currencies other than U.S. dollars are converted into U.S. dollars at the exchange rate in effect on the last day of the company's prior fiscal year (i.e. September 30, 2019).
In addition, we present the liquidity measure of free cash flow. Free cash flow is calculated by subtracting capital expenditures from Net cash provided by operating activities. We believe free cash flow is a measure often used by analysts and investors to compare the cash flow and liquidity of companies in the same industry.
The presentation of these non-GAAP financial measures is not intended to be considered in isolation from, as substitute for, or superior to, the financial information prepared and presented in accordance with GAAP and may be different from the non-GAAP financial measures used by other companies. In addition, these non-GAAP measures have limitations in that they do not reflect all of the amounts associated with the company's results of operations as determined in accordance with GAAP.
We do not provide a forward-looking reconciliation of expected next quarter non-GAAP revenue, non-GAAP gross margin, non-GAAP operating expenses, non-GAAP operating income, non-GAAP operating margin or adjusted EBITDA guidance as the amount and significance of special items required to develop meaningful comparable GAAP financial measures cannot be estimated at this time without unreasonable efforts. These special items could be meaningful.
The following tables reconcile historical GAAP measures to non-GAAP measures.