Raleigh-Durham, NC – July 28, 2022 - Avaya Holdings Corp. (NYSE: AVYA) today announced certain preliminary financial results for the third quarter ended June 30, 2022 and expects to release full results for the third quarter on August 9, 2022.
Based on the information currently available for the third quarter ended June 30, 2022, the company expects revenue to be between $575 million and $580 million, compared to guidance of $685 million to $700 million, and Adjusted EBITDA to be between $50 million and $55 million, compared to guidance of $140 million to $150 million.1 The company is also finalizing testing of its goodwill and intangible assets that is expected to result in significant non-cash impairment charges as of June 30, 2022.
Avaya also announced it has initiated cost-cutting measures that are expected to primarily impact the company's overall selling, general and administrative expenses, as well as discretionary spending. These actions are expected to generate between $225 million and $250 million in annual cost reductions beginning in the first quarter of fiscal 2023. The company expects to minimize any impact to customers with respect to sales and support, and remains committed to Avaya's long-range innovation and product development roadmaps.
The company's prior financial guidance should no longer be relied upon. Management will provide additional information in conjunction with the upcoming release of its full third quarter 2022 financial results.
The financial results for the three months ended June 30, 2022 included in this release are preliminary, have not been reviewed or audited, are based upon Avaya's estimates, and were prepared prior to the completion of the company's financial statement close process. The preliminary financial results should not be viewed as a substitute for the company's full third quarter results and do not present all information necessary for an understanding of Avaya's financial performance as of June 30, 2022. Accordingly, undue reliance should not be placed on this preliminary data.
Conference Call and Webcast
Avaya expects to report financial results for the third quarter of fiscal 2022 ended June 30, 2022 on Tuesday, August 9, 2022 before the market open. Avaya will host a live webcast and conference call to discuss its financial results at 8:30 a.m. Eastern Time.
To access the conference call by phone, listeners should dial +1-877-858-7671 in the U.S. or Canada and +1-201-389-0939 for international callers. A replay of the conference call will be available for one week by dialing +1-877-660-6853 in the U.S. or Canada and +1-201-612-7415 for international callers, using the access code: 13731758. To join the live webcast, listeners should access the investor page of Avaya's website https://investors.avaya.com/. Following the live webcast, a replay will be available for a period of one year.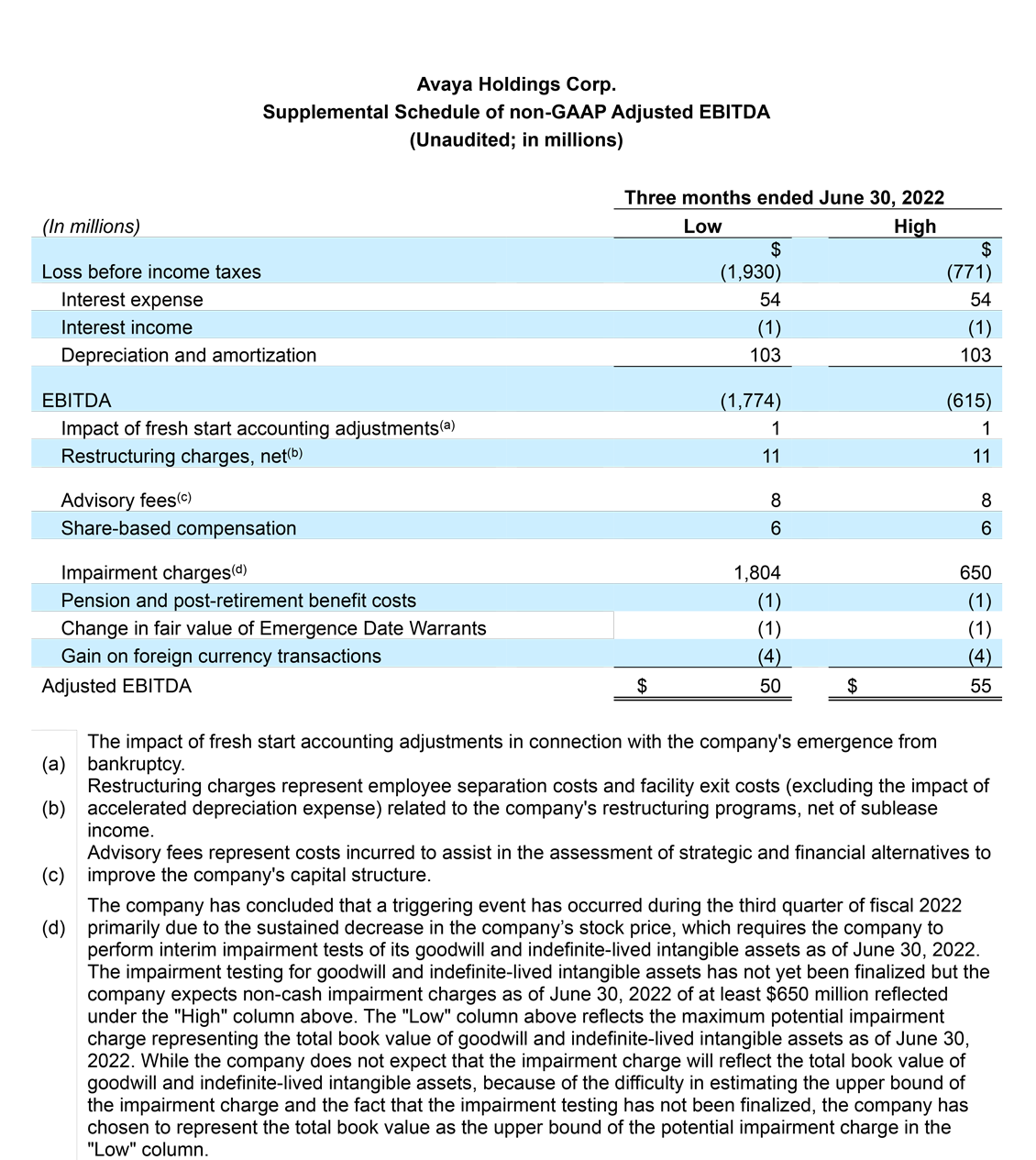 1 Guidance was presented using April 30, 2022 FX rates. Preliminary results presented using June 30, 2022 FX rates.